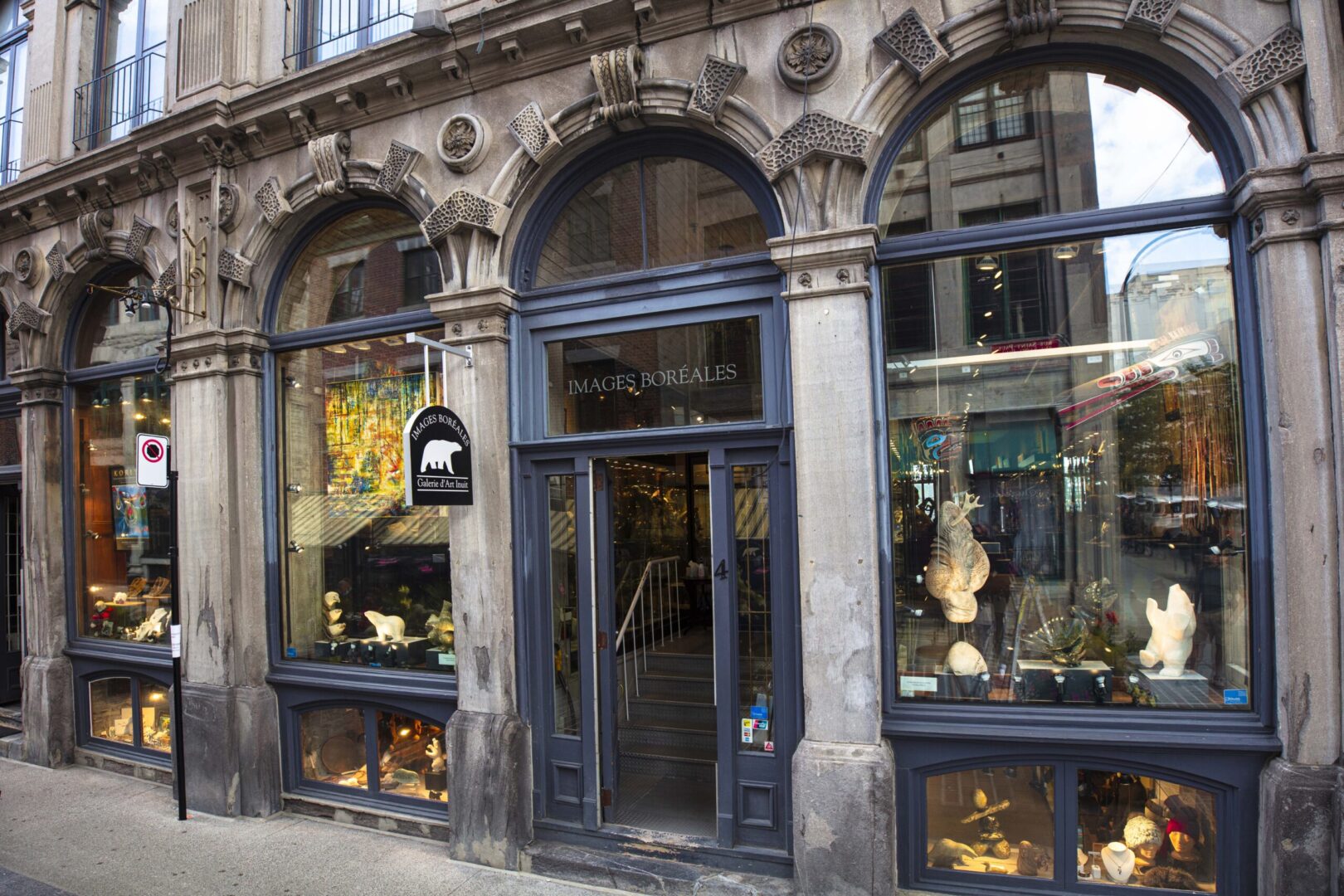 About Inuit Art & Our Gallery
Inuit in Northern Canada (Nunavut) have been producing bone, ivory and stone art for thousands of years. The oldest sculptures were decorated objects and tools, often embellished with figurative drawings. The Guilde Canadienne des Métiers d'Art had an early interest in Inuit art; but it was not until 1949 that it really became known during a first exhibition organized at the Guilde gallery in Montreal.
The public response was enthusiastic, marking the beginning of contemporary Inuit art. The government realizing the great artistic potential of Inuit people, established co-operatives to promote and encourage Inuit art, enabling communities to generate new sources of revenue. From this initiative, great artists are born who, through art, find a way to celebrate and share their values, beliefs and traditions.
Inuit work with the materials they have at their disposal: bone (fossilized whale bone), walrus ivory, muskox horn, leather, caribou antlers and primarily various stones such as serpentine, basalt and marble. Canada's Far North (Nunavut) is full of minerals that artists often have to extract on their own from the quarries available to them. Central Nunavut Inuit artists (e.g., Baker Lake and Arviat) work primarily on basalt, while Baffin Island artists (e.g., Cape Dorset, Kimmirut and Iqaluit) work primarily on serpentine, and sometimes marble. Others prefer to work with soapstone, which is much softer, but less common. Artists use traditional tools such as files, scrapers and sandpaper. Some artists also use metal saws, allowing them to reduce their working time while keeping a certain precision. Metal saws are more commonly used on larger pieces that are too difficult to cut by hand, however the finishing and details remain by hand.
Established in 2010, Galerie Images Boréales is proud to represent nearly 200 of Canada's most established Inuit artists from all over Nunavut. The gallery also works with young emerging artists, offering them a promising future by fostering their career development. Our gallery also represents indigenous artists from different cultural backgrounds such as First Nations artists, Dene, Haida, Coast Salish, Ojibway and other's.